Diversity, Equity and Inclusion
FOSTERING DIVERSE,
INCLUSIVE AND EQUITABLE WORKPLACES.
At U. S. Steel, we know that none of our goals are achievable without a diverse, talented and motivated workforce performing at high levels in inclusive, collaborative workplaces.
U. S. Steel is committed to attracting, developing, engaging, retaining and rewarding a diverse team of creative, highly skilled people dedicated to accountability, fairness and respect.
We also are committed to fostering an inclusive work environment where every employee feels a sense of belonging and valued for their contributions. When this environment exists, people feel confident enough to be themselves, allowing them to excel. And when our employees thrive, they create a high-performance culture that generates results for our company and our stakeholders.
Being competitive today requires that diversity, equity and inclusion be demonstrated in our company's practices and programs and through the tangible actions of our employees at all levels of the organization. We recognize that when we respect and value our differences and engage our employees around common goals, we create an environment where our employees and our company reach our fullest potential.
Read about our progress and goals in our current DE&I Report linked below.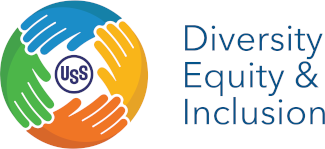 DIVERSITY AND EQUITY
BUILDING DIVERSITY AND EQUITY FOR A STRONGER FUTURE.
Diversity and Equity are built into our business strategy at U. S. Steel. We know that a more diverse workforce makes us a stronger company, and our commitment to this knowledge runs throughout the organization.
We currently post open positions on more than 6,000 diversity-related websites and regularly explore new opportunities to expand our partnerships. We also search for diverse hiring events to attend and host outreach sessions.
Our Employee Resource Groups (ERGs) are designed to support and create a community for various members of our diverse workforce. Once you join U. S. Steel, we encourage you to engage with the ERGs.
INCLUSION
PLEDGING OUR COMMITMENT
TO INCLUSION.
At U. S. Steel, our dedication to inclusion begins at the top. Early in his tenure, our President & CEO David Burritt joined CEO Action for Diversity & Inclusion™, the largest CEO-driven business group devoted to advancing diversity and inclusion in the workplace. Membership in this group represents a serious commitment to diversity, equity and inclusion, with all CEO members signing a pledge to achieve four pillars of diversity, equity and inclusion:
1. We will continue to make our workplaces trusting places to have complex, and sometimes difficult, conversations about diversity, equity and inclusion
2. We will implement and expand unconscious bias education
3. We will share best — and unsuccessful — practices
4. We will create and share strategic diversity, equity and inclusion plans with our board of directors
Other members of the executive leadership team also play important roles in diversity, equity, and inclusion initiatives at U. S. Steel, serving on our Diversity, Equity and Inclusion Council and as executive sponsors for our Employee Resource Groups (ERGs).
Our ERGs involve employees throughout the organization and offer opportunities for sharing experiences, strategies and success. Collectively, our ERGs drive awareness, strengthen employee engagement, and create internal and external connections, including through charitable outreach. Our current ERGs and their areas of focus are below.
---
LEAD (Leveraging and Enhancing All Diversity): To promote an inclusive environment that embraces the vision, furthers the value, and aligns with the Inclusion and Diversity strategy of U. S. Steel. This will be accomplished by leveraging the mix of diverse thought, personal background, and professional education in order to enhance employee engagement and positively impact business goals.
---
NextGen Steel: To engage and empower the next generation of leaders in steel by connecting U. S. Steel employees of all generations across the company to strengthen the future of our industry.
---
SERVE (Strengthening and Enhancing Relationships of Veteran Employees): To honor and support all employees, current and prospective, who are veterans of our nation's military or remain active in the National Guard or Reserves.

Veteran Talent Community
---
SteelABILITY: The mission of SteelABILITY is to foster an environment where employees with disabilities, as well as employees who care for people with disabilities, feel empowered to bring 100% of themselves to work. We do so by advocating for and empowering individuals, increasing understanding of disability related issues, and promoting inclusion and respect within both U. S. Steel and our communities.

SteelABILITY Talent Community

Disability: IN CEO Letter on Disability Inclusion
---
SteelPARENTS: Supporting working parents and caregivers at U. S. Steel by providing resources, access, and opportunities to strengthen social networks within the community.
---
SteelPRIDE: Our mission is to bring together and ensure dignity, respect, and inclusivity for members of the lesbian, gay, bisexual, transgender, and queer community, along with their allies in a positive and respectful environment, where they can express their identity, share knowledge, and cultivate an environment of trust and open, honest communication.
---
WIN (Women's Inclusion Network): To cultivate an inclusive environment that enables women to maximize their professional success at U. S. Steel through networking, education, recruitment, leadership opportunities and community involvement.

Women of Steel Talent Community
---

SteelSUSTAINABILITY: To create a brighter future for U. S. Steel and our stakeholders by engaging employees on sustainability issues, turning ideas into action to support U. S. Steel's sustainability strategy, and giving back to our local communities through meaningful community service and outreach.
OPPORTUNITIES TO BUILD THE FUTURE.
Search all available opportunities at U. S. Steel, from full-time positions to student employment — and apply online.
VIEW CURRENT JOB OPPORTUNITIES
United States Steel Corporation, its subsidiaries and certain affiliates ("U. S. Steel"), are equal opportunity employers. It is our policy to provide equal employment opportunity (EEO) according to job qualifications without discrimination on the basis of race, color, religion, ancestry, national origin, age, genetics, sexual orientation, sex, gender identity, disability status or status as a protected Veteran or any other legally protected group status.
Accommodations are also available for those seeking a job at U. S. Steel. If you need an accommodation to complete your application or pursue a job at U. S. Steel, please contact the HR STEEL Center at 877-877-4586, TTY: 833-353-2112 or HRSTEELCenter@uss.com.
U. S. Steel participates in E-Verify [English / Spanish], the federal program for electronic verification of employment eligibility.
EEOC Know Your Rights
CEO Action for Diversity & Inclusion is a trademark of PricewaterhouseCoopers LLP. Used with permission.
U. S. Steel Employee Log-in
Password-protected website for current and retired U. S. Steel employees.