Sustainability
MATERIAL TOPICS AND
STAKEHOLDER ENGAGEMENT
Engaging with stakeholders to understand priorities and shape our ESG strategy
In 2022,
U. S. Steel
engaged with an independent third party to update the materiality assessment that was conducted in 2019 to be more comprehensive and include input from external stakeholders.
We identified an initial universe of material ESG topics by conducting research on current and emerging sustainability trends, and benchmarked material topics and ESG performance of peer steelmakers and sustainability leaders.
In addition, we engaged a broad group of internal and external stakeholders to assess and prioritize these topics. We conducted interviews and surveys with executives across
U. S. Steel
business lines and external stakeholders representing investors, customers, suppliers, lenders and non-governmental organizations. The stakeholders rated the importance of ESG topics to themselves and to other stakeholders, as well as to
U. S. Steel's
corporate goals and strategy. In addition, stakeholders commented on the ESG topics they expect to grow in importance in the short and medium term (bolded on the matrix). 
---
2022 ESG MATERIALITY MATRIX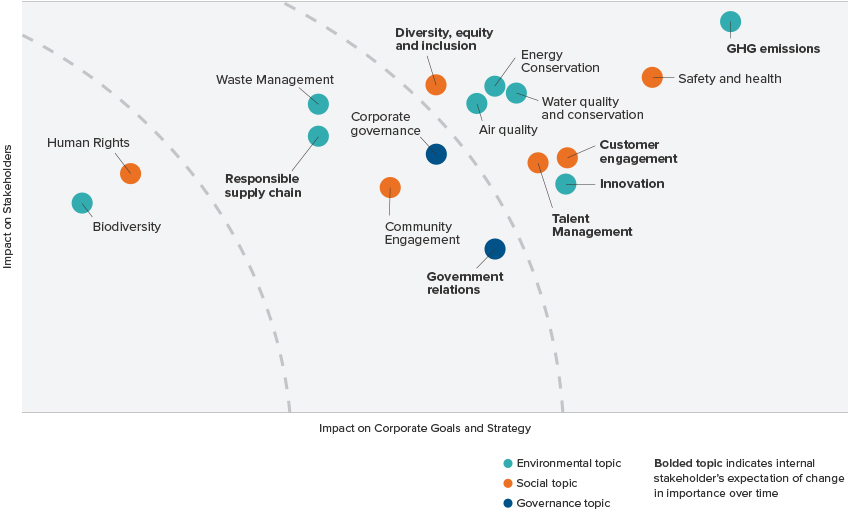 U. S. Steel's Sustainability Team validated the results, which are mapped in the materiality matrix above.
Our assessment identified 16 significant ESG topics to U. S. Steel, of which the following nine were considered of highest importance (here in alphabetical order):

- Air quality

- Customer engagement

- Diversity, equity and inclusion

- Energy conservation

- GHG emissions

- Innovation

- Safety and health

- Talent management

- Water quality and conservation
 
During the stakeholder engagement process, we identified two recurring and emerging themes which encompass many of the 16 ESG material topics:

Just transition – ensuring that the transition to net-zero greenhouse gas emissions for the steel industry is just and equitable for stakeholders that are directly affected.

Decarbonization – reducing greenhouse gas emissions through product and process innovation,
responsible supply chain initiatives, energy conservation efforts and other activities.
As we transition to a lower carbon footprint we are committed to continued engagement with community stakeholders, so we can be responsive to local community interests that facilitate a just transition of historical U. S. Steel group properties that further enable community development goals. This process includes working with local governments and developers to expedite the transition of properties to third parties that create future jobs and economic benefit to the impacted communities.

As we move forward on our decarbonization journey, we anticipate cultivating employment opportunities through new technology development in partnership with like-minded companies, institutions, academia, and non-profit organizations. To the extent our operating portfolio changes as a result of our transition to a lower carbon footprint, we have programs in place to provide retraining/upskilling training and interplant job opportunity placement.

U. S. Steel will continue to engage with a variety of internal and external stakeholders to understand evolving perspectives around ESG topic materiality, and risks and opportunities across our value chain. The insights gathered from this materiality refresh will inform U. S. Steel's Best for All® strategy and enterprise risk management mitigation strategies going forward.