Air quality compliance and improvement activities are key to U. S. Steel's environmental stewardship efforts.
Many of our facilities have Title V operating permits that are required by the Clean Air Act. These permits are enforceable by the issuing agency, usually the state, as well as the US EPA. The Title V permit is unique for each facility, is comprehensive, and is intended to include "all applicable requirements" under the Clean Air Act and underlying regulations that apply to the facility. The permits include emissions limits and standards and work-practice requirements, as well as air pollution control equipment, stack testing, monitoring, record-keeping, and reporting requirements. U. S. Steel is required to provide periodic monitoring reports to the regulatory authorities and certify compliance at least annually, identifying any deviations from the applicable requirements.

Some of our facilities are not required to have a Title V permit. These facilities are typically regulated by installation permits, construction permits, minor source operating permits, permit-by-rules, or a combination of these regulatory and permitting mechanisms. Included in the various permit or rule types are conditions that limit the amount of air emissions; applicable federal, state, and local authority regulations; work practice standards; and monitoring related to the operations and maintenance of air pollution control equipment, reporting of process conditions, and record-keeping requirements.

U. S. Steel is committed to environmental progress and strives for 100% compliance with all federal, state, and local agencies' rules, regulations, and permit conditions, even as the regulations become more stringent. NOx is produced from a variety of sources, such as car engines, agricultural activities, industrial operations, and even lightning.
---

Air Emissions 2030 Goal
-10%
We have set a goal to reduce
our corporate NOx emissions
by 10% by 2030, using 2018
baseline levels.
---

2022 AIR EMISSIONS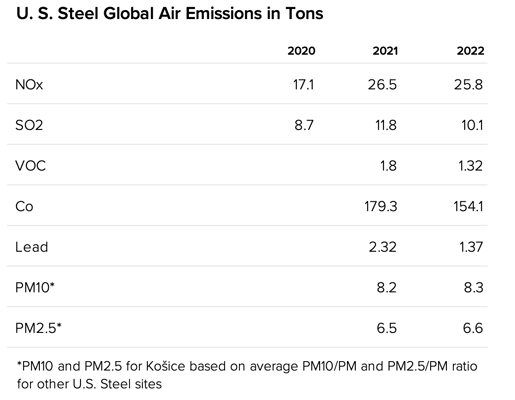 SPOTLIGHT: EMISSIONS CONTROL PROJECTS
---
CLAIRTON PLANT
VCU UPGRADE TO REDUCE
SO2 EMISSIONS
An innovative upgrade was made to the Vacuum Carbonate Unit (VCU), a key part of our Clairton Plant's coke oven gas (COG) desulfurization process. The goal: reduce the concentration of hydrogen sulfide (H2S) in the COG in order to decrease sulfur dioxide (SO2) emissions produced when the COG is recycled and used for fuel at three Pittsburgh-area Mon Valley Works facilities (Clairton, Edgar Thomson and Irvin Plants). Within the VCU, the COG passes through a soda ash solution in a trayed absorber column. The H2S is absorbed by the soda ash, and the desulfurized gas exits the absorber column as a desulfurized fuel. Since completion in 2016, the upgrades have led to significant, measurable reductions in sulfur content in COG.
---
U. S. STEEL KOŠICE
A LONG-TERM COMMITMENT
TO EMISSIONS REDUCTION
Since acquiring U. S. Steel Košice (USSK) in 2001, U. S. Steel has made significant investments to improve the facility's environmental performance. Thanks to those investments and the efforts of our employees, including the development of innovative environmentally focused solutions, specific solid particulate air emissions have decreased by 93% compared with 2001, down to 0.297 metric tons per 1,000 metric tons of steel produced. That equates to a 15,600 metric ton reduction in solid particulate air emissions in the vicinity of USSK since 2001.
ENVIRONMENTAL AREAS OF FOCUS
U. S. Steel's current environmental areas of focus align with the results of our ESG Materiality Assessment.