Our History
An Industry Leader
from the start.
Born in 1901, United States Steel Corporation has evolved and grown with America. Whether thriving together in times of prosperity or working together in times of challenge, we built the steel that built this nation. We are energized by the opportunity before us to create a better tomorrow for our company, customers, communities and planet.
Birth of An American Icon
An iconic company, founded by iconic individuals.
U. S. Steel was formed with the joining of American business icons Andrew Carnegie, J.P. Morgan and Charles Schwab, led by Elbert H. Gary, U. S. Steel's first chairman.

At the turn of the century, a group headed by Gary and Morgan bought Carnegie's steel company and combined it with their holdings in the Federal Steel Company. These two companies became the nucleus of U. S. Steel. In the decades that followed, U. S. Steel has played an integral part in the history of the United States, including supplying steel for countless iconic American buildings, bridges and other structures.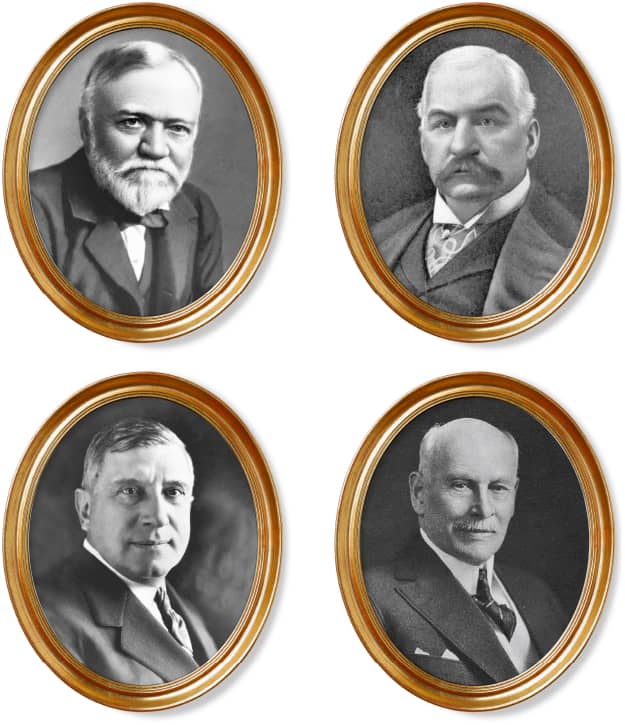 Top: (left to right) Andrew Carnegie and J.P. Morgan
Bottom: (left to right) Charles Schwab and Judge Elbert Gary.

U. S. Steel's first official logo from 1901.
FINISHING MILL
Coils requiring further processing are sent to
our finishing mill. Our technicians closely monitor
and control mechanical properties throughout
the entire process via a continuous flow of data
provided by the pickling line and tandem cold
mill (PLTCM) and other finishing mill equipment.
From the pickle line, through the cold mill and
batch anneal, all the way to the temper mill, our
equipment and technicians can craft some of
the most demanding cold rolled, galvanized
and hot rolled pickled and oiled steel.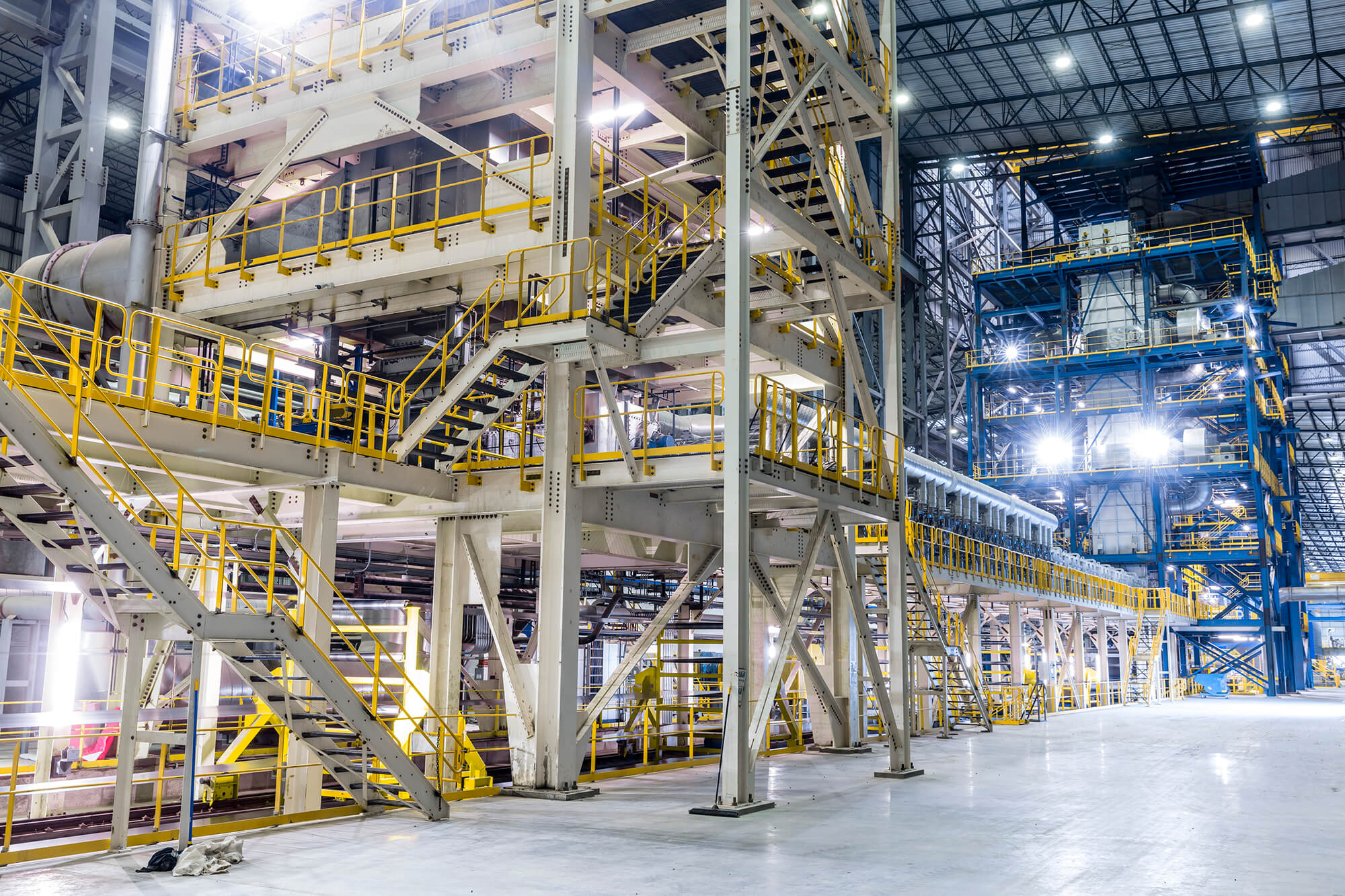 Building America
Making the steel that built America.
From our beginnings, we have made the steel that built America. U. S. Steel's diverse products literally formed the foundation of rapid physical and economic growth throughout the 20th century in cities and small towns across the United States.
From the first skyscrapers to schools, hospitals and other buildings, to the roads, bridges and rail lines that connect us all, our history—our products and the people who made them—is as embedded in American life as any company operating today.
U. S. Steel supplied steel for and erected many famous structures across the United States, including:
San Francisco-Oakland Bay Bridge
U. S. Steel Tower in Pittsburgh and remains home to the company's global headquarters.
Willis Tower and Hancock Tower in Chicago
New Orleans Superdome
United Nations Building in New York City
Vehicle Assembly Building at NASA's Kennedy Space Station in Florida
Unisphere sculpture for the 1965 New York World's Fair
Pablo Picasso's untitled sculpture in Chicago known as the "Chicago Picasso."
Tappan Zee, Verrazano Narrows and Henry Hudson bridges in New York City
New River Gorge Bridge in West Virginia
Chesapeake Bay Bridge in Maryland
"Three Sisters" bridges in Pittsburgh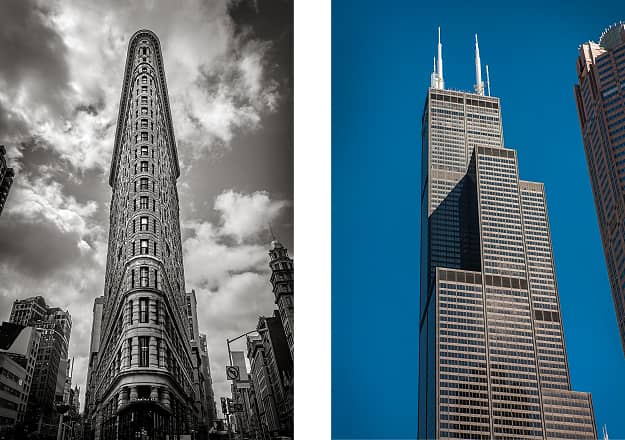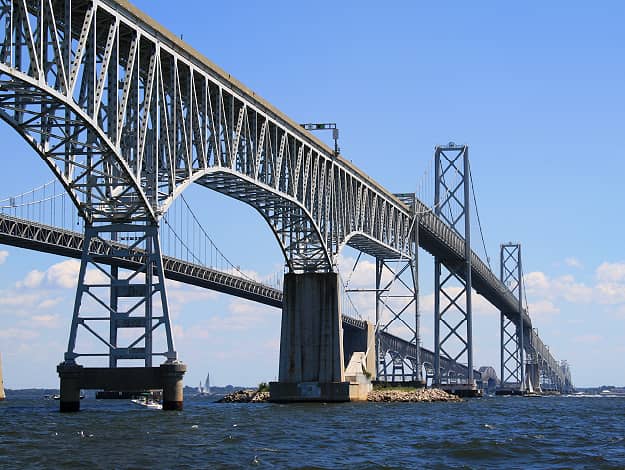 Top: San Francisco-Oakland Bay Bridge.
Middle: (left to right) Flat Iron Building (one of the first steel-infrastructure skyscrapers in NYC) and Willis Tower
Bottom: Chesapeake Bay Bridge
DOWNCOILER
The downcoiler is one of the most powerful
in the industry as it collects steel for cooling,
shipping and/or additional finishing. It takes
about 72 hours for a coil to cool completely
before it's sent for further processing or
shipped to a customer.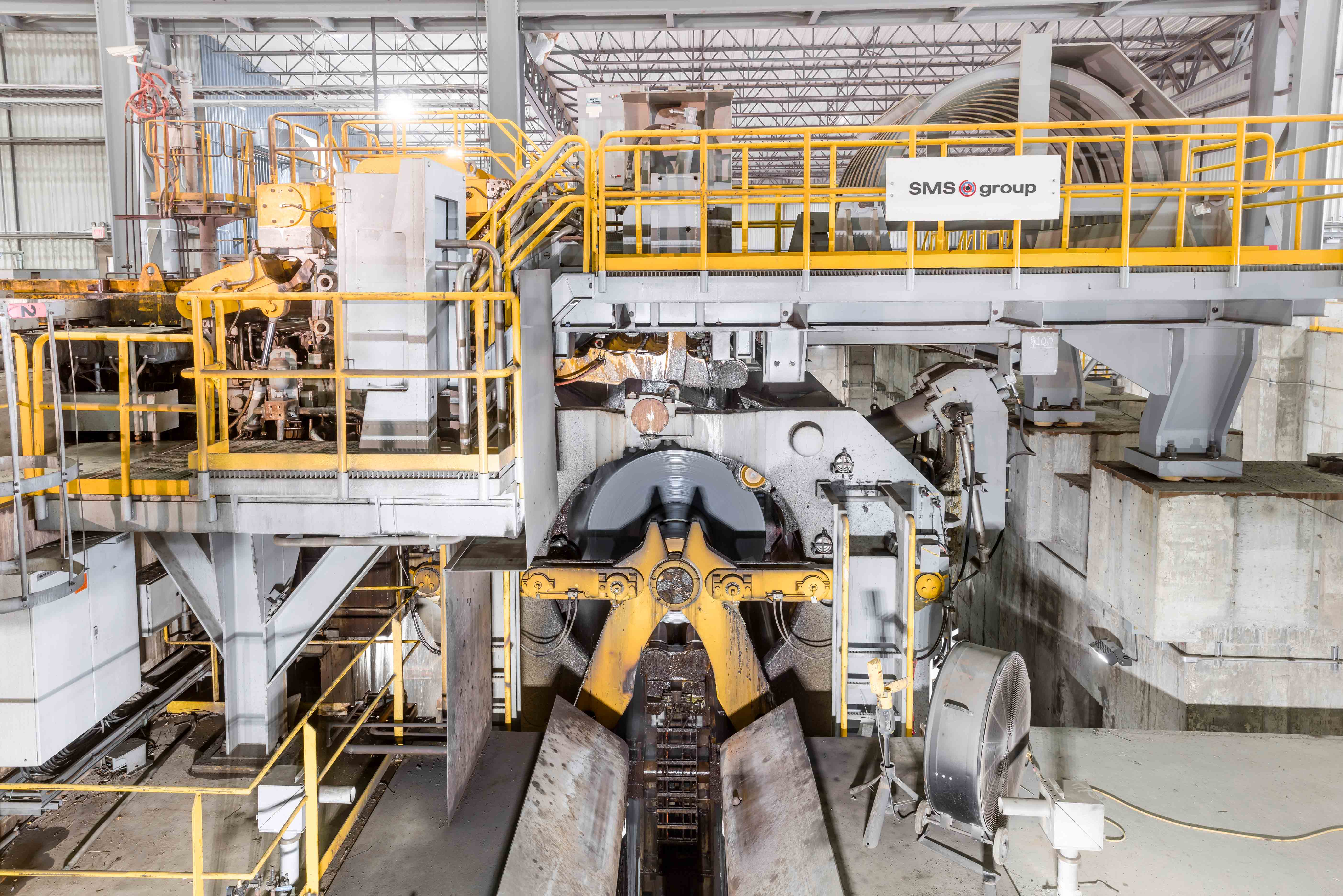 HOT MILL
The steel slab moves through six stands,
each increasing pressure to reduce the
material to the desired thickness. Each
stand emits thousands of pounds of
pressure on the slab.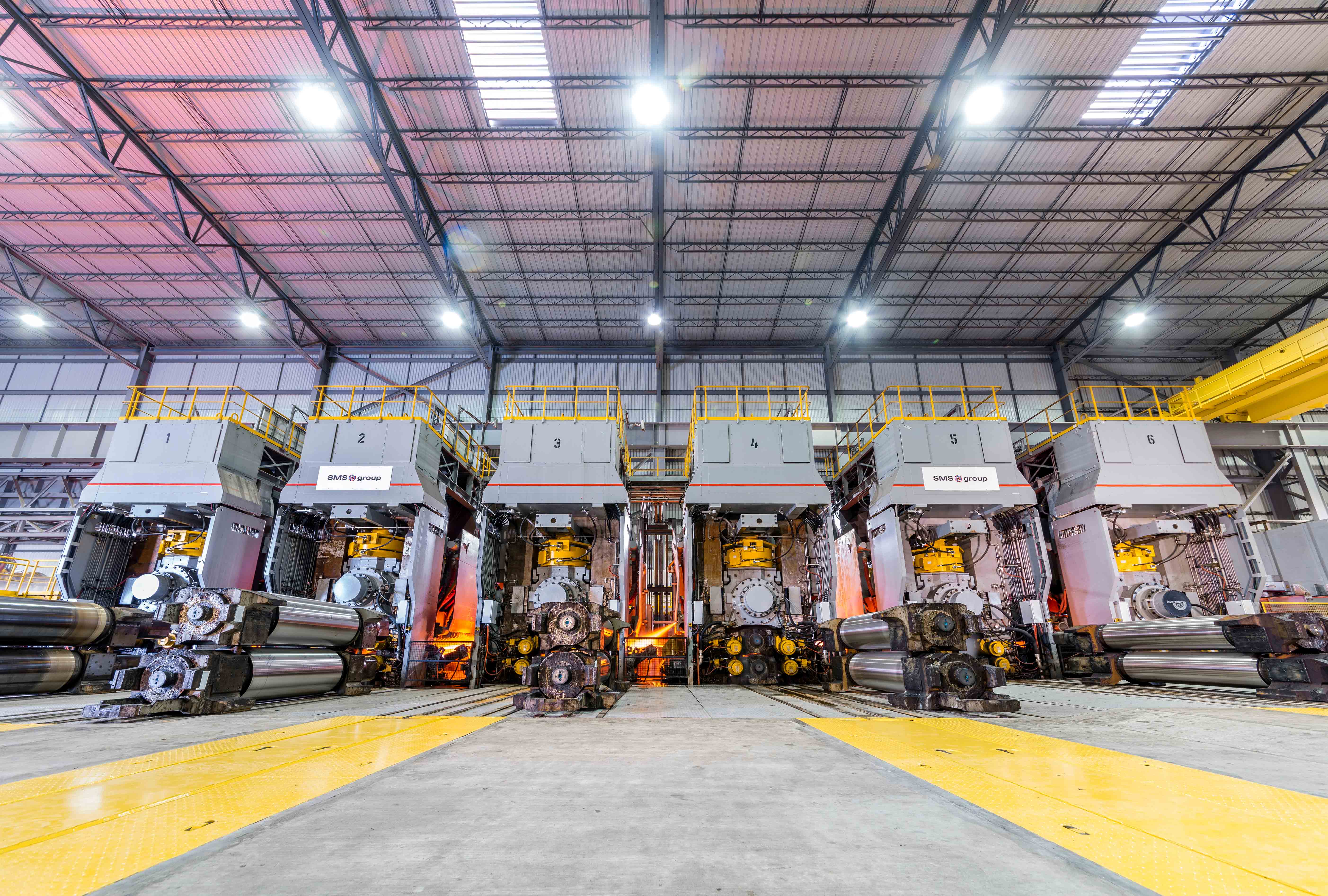 Navigating Tough Times
Building for the Future During the Great Depression.
As it was for the vast majority of U.S. businesses, the Great Depression in the 1930s was a time of unprecedented struggle for U. S. Steel. But as our company sales hit an all-time low in 1933, we kept our focus on the future.
Under the leadership of our chairman at the time, Myron C. Taylor, U. S. Steel began modernizing operations. Starting in 1932, we began closing some facilities while updating and building others. We also began shifting focus to making more steel for consumer products such as automobiles and household appliances.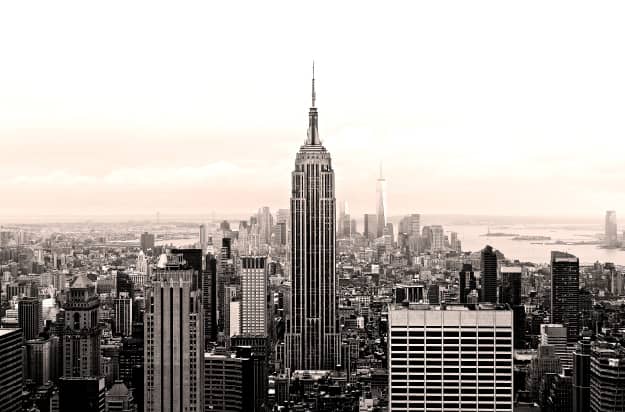 U. S. Steel moved its headquarters to New York City's Empire State Building when construction (using our steel) was completed in 1931.
CASTER AND TUNNEL FURNACE
The caster stands three stories high and
transforms the liquid steel carried by the
ladle into solid slabs. These slabs then travel
down the Tunnel Furnace to be reheated in
preparation for rolling.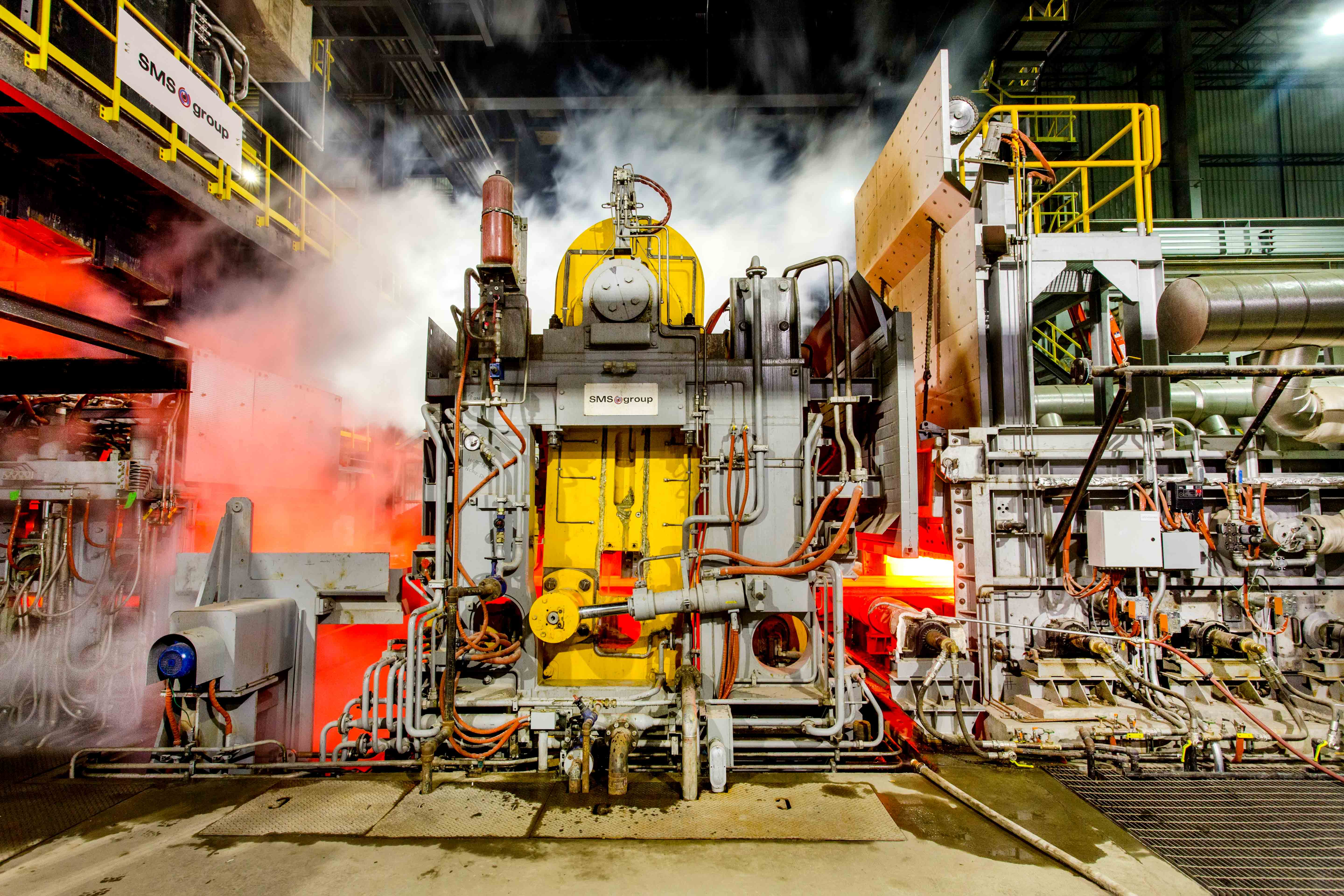 Defending Freedom
Answering the Call with the Strength of Steel.
Over the course of wars and the periods of peace that followed, U. S. Steel supplied hundreds of millions of tons of steel used to build planes and ships of all sizes, as well as tanks and a wide variety of other military equipment. U. S. Steel products were used to build 119 Landing Ships/Tanks (LSTs) in World War II, with increased wartime production helping to cut LST construction time from 260 days to just 30 days.
The people of U. S. Steel also have always answered the call. During World War II, more than 113,000 U. S. Steel employees enlisted or were drafted by the armed forces.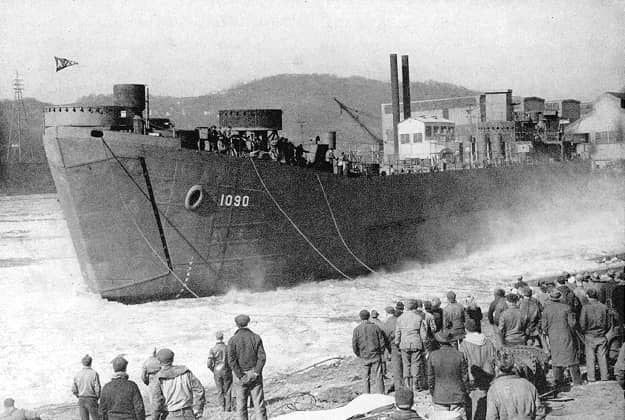 U. S. Steel products were used to build 119 Landing Ships/Tanks in World War II.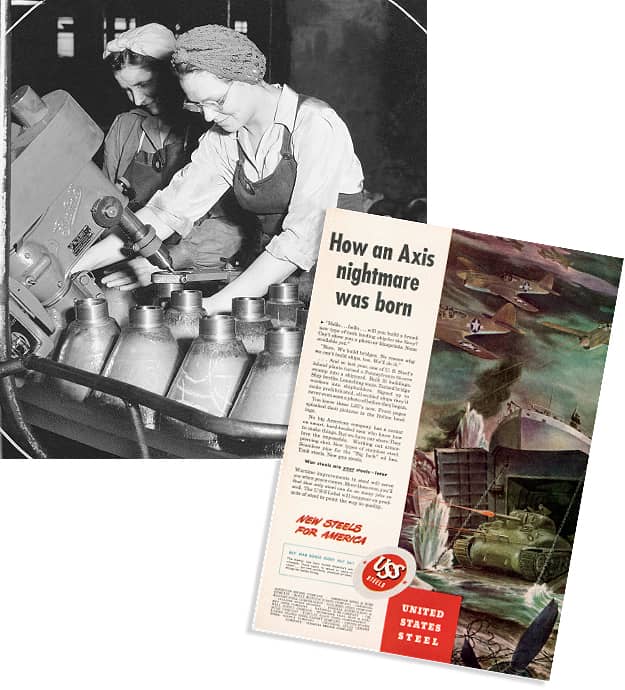 Left: During World War II, women held one of every eight jobs at

U. S. Steel

, from roles throughout our operating facilities to a variety of roles in office settings.

Right: A copy of a

U. S. Steel

advertisement during World War II touting the benefits of our company's products during war and peace.
Evolving With Opportunity
Rethinking and Restructuring, Building and Expanding.
U. S. Steel thrived in the post-war years, over time consolidating various steelmaking and raw material subsidiaries and divisions through a series of reorganizations. By the 1980s our company had implemented a number of major diversification and restructuring actions. In 1982, the corporation also broadened its horizons, entering the energy industry with the acquisition of Marathon Oil Company and, in early 1986, Texas Oil & Gas Corp.
In late 1986, recognizing the fact that it had become a vastly different corporation, United States Steel Corporation changed its name to USX Corporation, with principal operating units involved in energy, steel and diversified businesses.
Fast forward to Nov. 24, 2000, when U. S. Steel diversified its geographic footprint outside the United States with the purchase of the Slovak steelmaking assets of VSZ a.s., creating U. S. Steel Košice.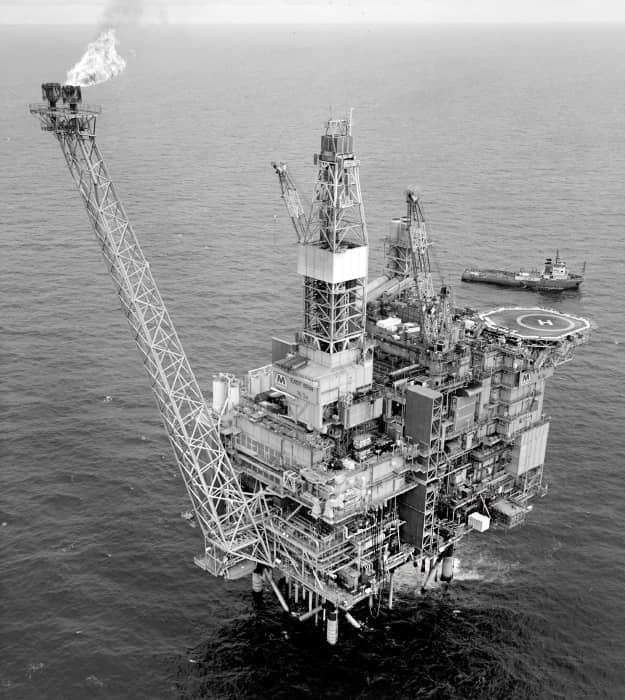 In 1982, U. S. Steel also broadened its horizons, entering the energy industry with the acquisition of Marathon Oil Company.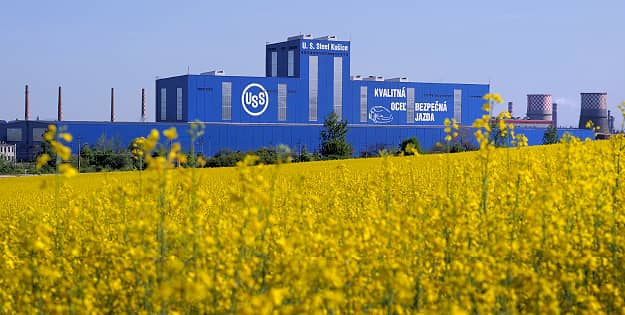 U. S. Steel Košice's hot-dipped galvanizing line

USX Corporation logo used from 1986 through December 31, 2001.
RUHRSTAHL HERAEUS (RH) DEGASSER
Only specific ladles stop at our RH degasser,
the only one installed at a mini mill. Our RH
degasser allows us to produce advanced
steel grades that require very low carbon
and/or nitrogen levels that can only be
achieved through this additional processing.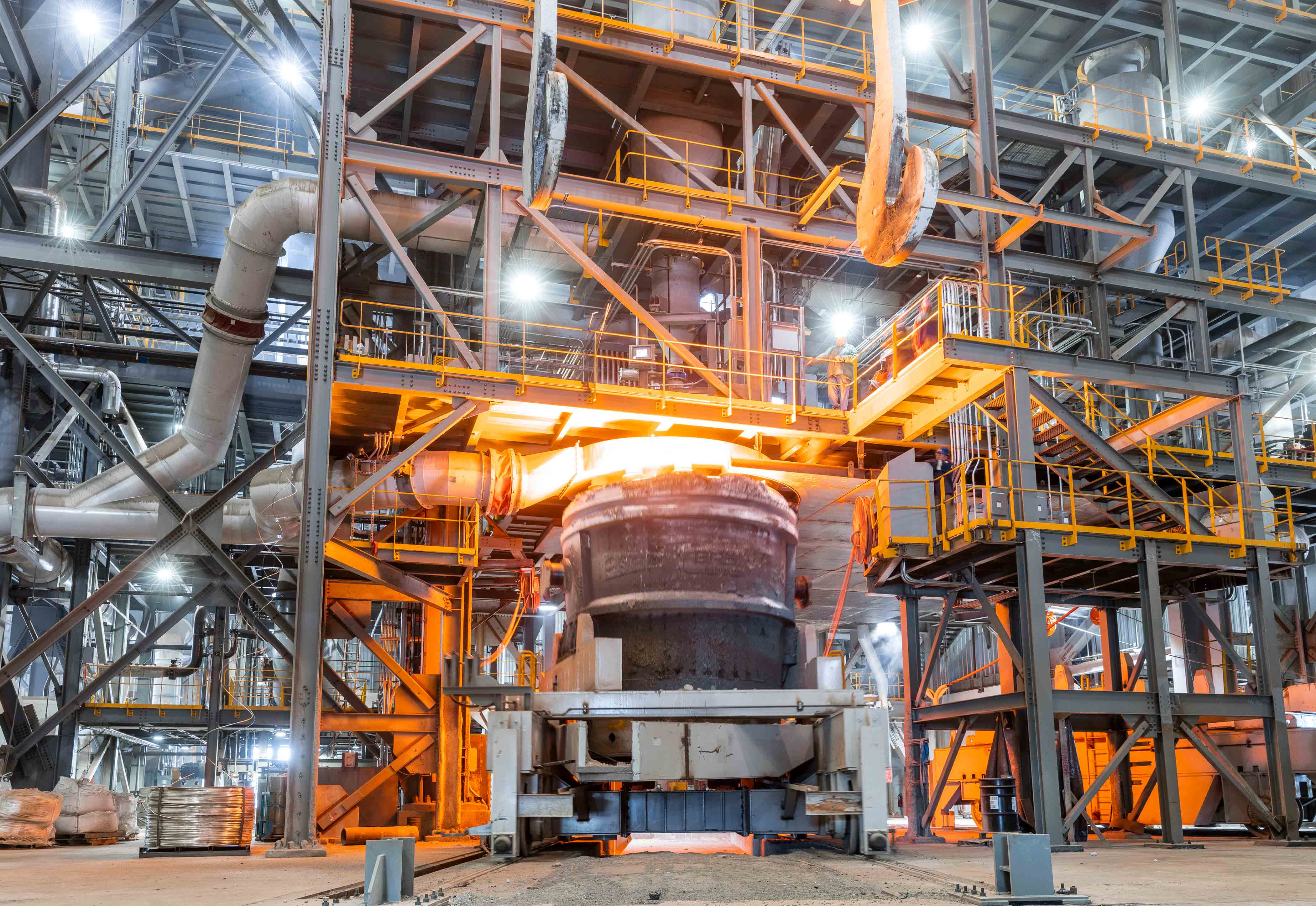 Changing With The Marketplace
Moving U. S. Steel Forward to Meet Challenge and Opportunity
The 1980s brought other significant challenges and changes to the corporation's steel operations. In response to economic shifts in the steel industry, the corporation made the difficult but necessary decision to reduce domestic raw steel production capability to better align with market demand.
At the same time, many of the units among the corporation's diversified businesses were sold or combined into joint venture enterprises. These included chemicals and agrichemicals businesses, an oil field supply business, domestic transportation subsidiaries and raw materials properties worldwide.
In October 2001, USX Corporation shareholders voted to adopt a plan of reorganization. The plan resulted in the spinoff of the steel and steel-related businesses of USX into a freestanding, publicly traded company known as United States Steel Corporation, the name of the corporation when it was established a century earlier. The remaining energy businesses of USX became Marathon Oil Corporation.
The two new companies officially began operating independently on January 1, 2002.

U. S. Steel adopted aspects of earlier logos when developing branding for the company's 2002 spinoff from the former USX Corporation.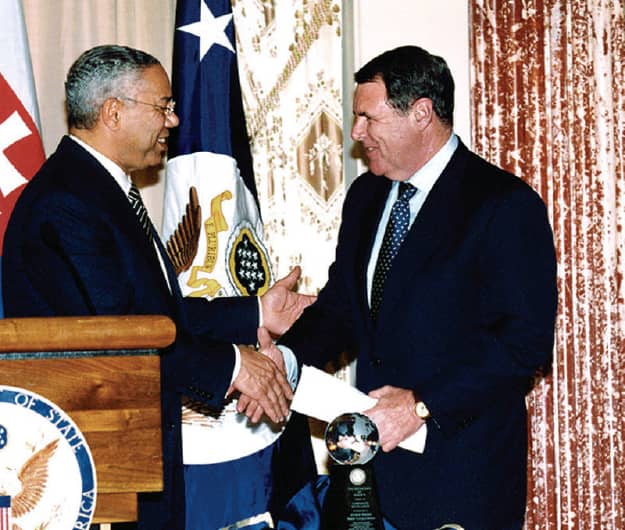 Retired U. S. Steel Chairman and CEO Tom Usher accepted the U.S. Secretary of State's Award for Corporate Excellence from Secretary Colin Powell in 2003. The award recognized U. S. Steel for our outstanding corporate citizenship, innovation, and exemplary international business practices at U. S. Steel Košice in the Slovak Republic and for exhibiting the qualities of conscience, character and integrity.
LADLE METALLURGICAL FURNACE (LMF)
The molten steel is moved by ladle to the ladle
metallurgical furnace (LMF) where alloys are
added to further adjust chemistries to meet
customer demands.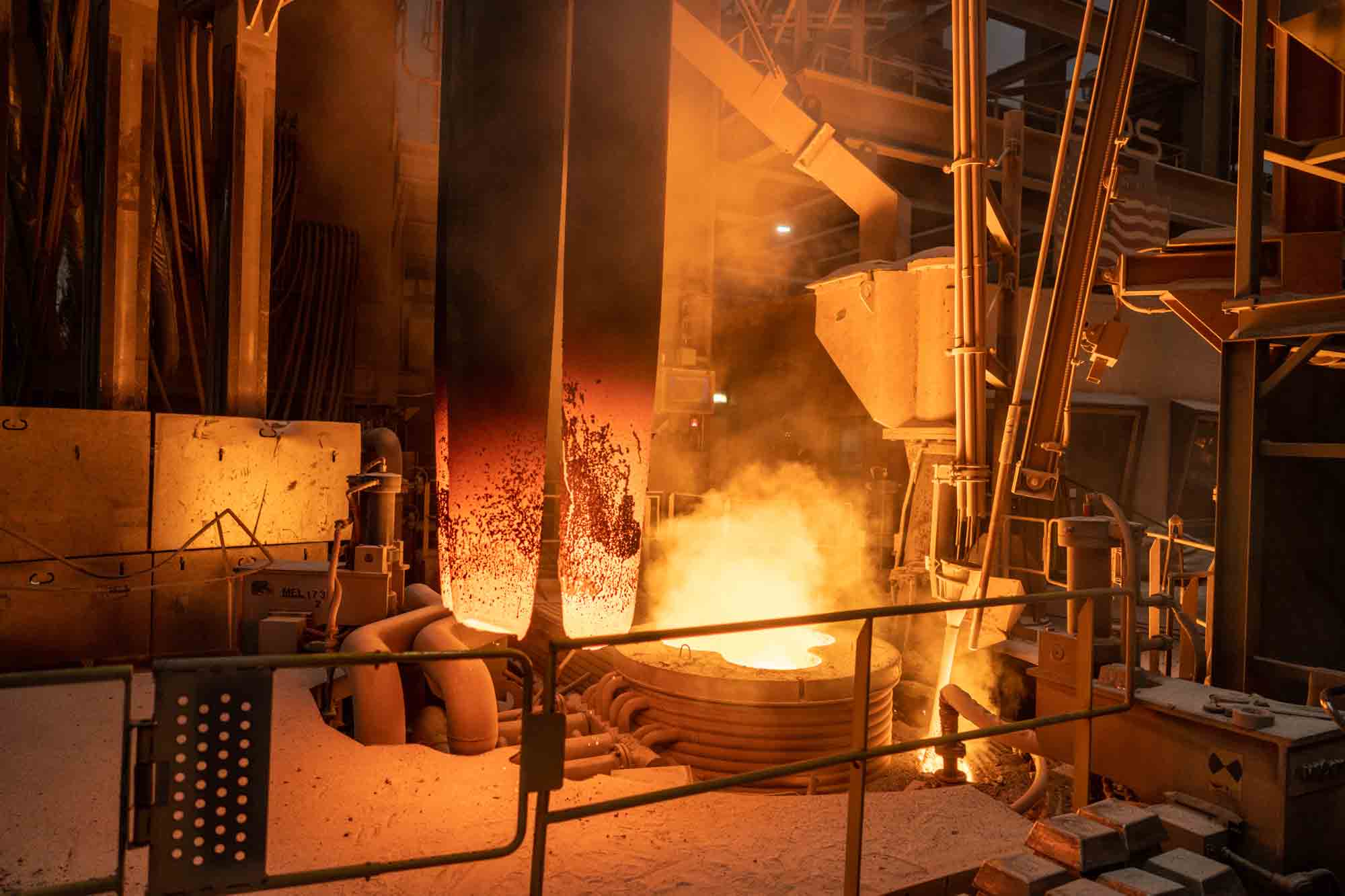 ELECTRIC ARC FURNACES (EAF)
Our steel process begins with our state-of-the-art electric arc furnaces (EAF). Each EAF is fed
high-grade recycled scrap and other materials melted to specific chemistries. The energy powering our EAFs is sourced from non-fossil fuel sources. Once melted, the EAF is tapped and the molten steel is emptied into a ladle.
TAKING ACTION DURING A DOWNTURN
U. S. Steel Builds Its Capabilities in the Early 2000s.
Global steelmaking overcapacity and the rise of low-price steel imports battered the American steel industry through the early 2000s, forcing many producers into bankruptcy. The newly reorganized U. S. Steel endured. As we had during other challenging periods in our industry, we invested strategically to build our capabilities for the future.
U. S. Steel acquired the assets of the former National Steel Corp. in 2003, adding iron ore reserves and significant integrated steelmaking capacity. The deal moved U. S. Steel from the 11th largest steel producer in the world to the fifth at that time.
In 2007, we acquired Lone Star Technologies, a leading producer of welded pipe for the oil and gas industry. Adding Lone Star's assets and expertise bolstered our position in the growing energy sector and elevated U. S. Steel to North America's largest manufacturer of tubular steel products.
Top: In 2007,

U. S. Steel

acquired Lone Star Technologies, a leading producer of welded pipe for the oil and gas industry.

Bottom: Full-page newspaper ads heralded

U. S. Steel's

2003 acquisition of former National Steel Corporation facilities in Indiana, Illinois, Michigan and Minnesota.
TRANSFORMATION AS PREPARATION
Best of Both® Strategy: Preparing U. S. Steel for a Bright, Sustainable Future.
We began our transformative Best of Both® strategy in 2018 to make U. S. Steel truly world-competitive and better serve our customers by combining the best of both integrated and mini mill steelmaking technologies.

For the next three years, we made major strategic investments in technology and advanced manufacturing to give U. S. Steel market-leading, differentiated and technologically advanced assets, laying the foundation for Best for All®, our strategic vision to accelerate our future as a sustainable steel leader.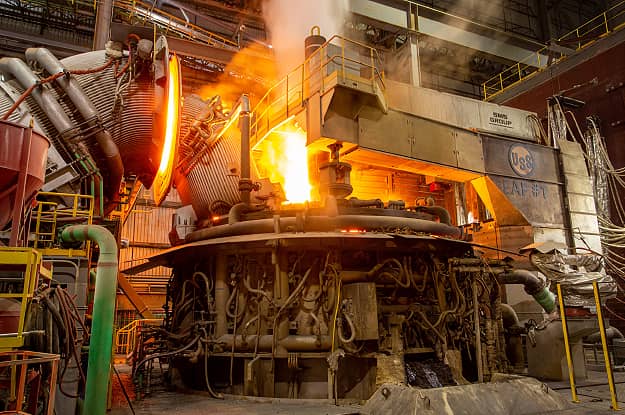 We celebrated the completion and start-up of

U. S. Steel's

electric arc furnace at our Fairfield Tubular Steel Operations in December of 2020, marking the return of EAF steelmaking to the company's footprint for the first time in decades.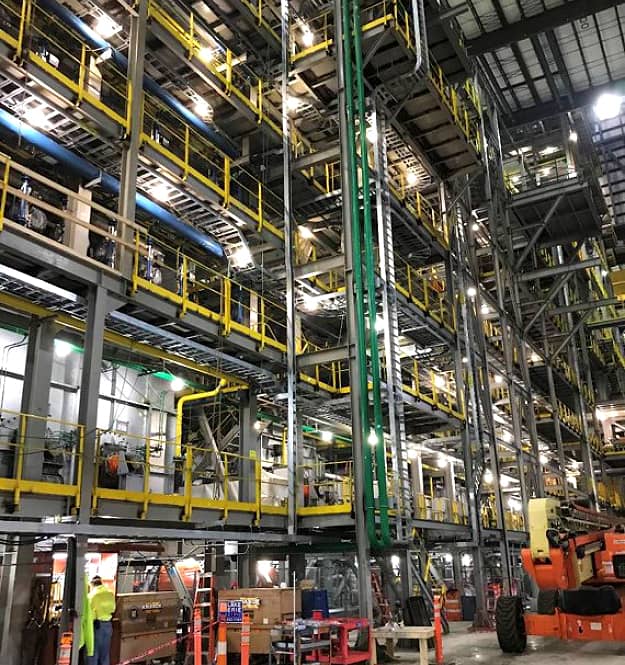 We completed construction of a new continuous galvanizing line at our PRO-TEC Coating Company joint venture in 2020, significantly bolstering our ability to produce advanced high-strength steels for automotive and other applications, including our industry-leading XG3™ product.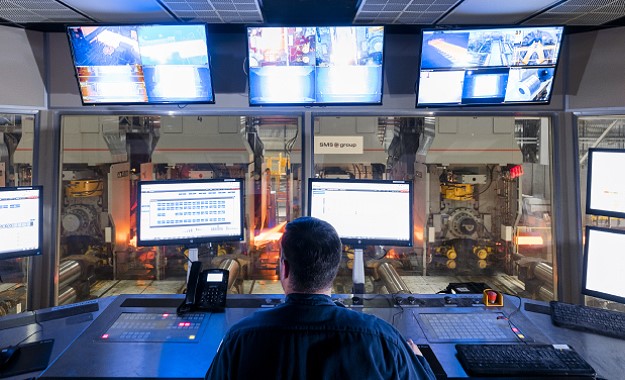 In 2019 U. S. Steel acquired a 49.9% ownership interest in Big River Steel, the newest and most advanced flat-rolled steel mini mill in North America. We acquired the remaining 50.1% in early 2021, nearly three years ahead of plan, transforming our ability to provide the best of both integrated and mini mill steelmaking technology for lighter, higher-performing, more environmentally sustainable steels.
BRINGING OUR VISION TO LIFE
Best of Both® becomes Best for All®.
The transformative effect our Best of Both
®
strategy has had on
U. S. Steel's
capabilities is as important as it is exciting. Because with expanded mini mill capabilities, we are in the best position yet to serve a bigger, more demanding and ultimately more vital customer: planet Earth.
And so, Best of Both
®
becomes Best for All
®
. In 2021, this evolved strategy gained momentum with actions focused both on the future and the here and now.
We announced our intention to achieve net-zero carbon emissions by 2050, building on our 2030 goal of reducing greenhouse gas emissions intensity by 20% based on a 2018 baseline. We became the first North American steel producer to join ResponsibleSteel
TM
, a global organization dedicated to advancing steel's contribution to a sustainable future across the industrial supply chain.
And we launched verdeX
®
sustainable steel, which contains up to 90% recycled content and is produced with a carbon footprint that's 75% lower than comparable products made through integrated steelmaking. With
U. S. Steel's
industry best finishing technologies, verdeX
®
sustainable steel is available in a growing number of grades that meet exacting automotive OEM standards today, not five years from now.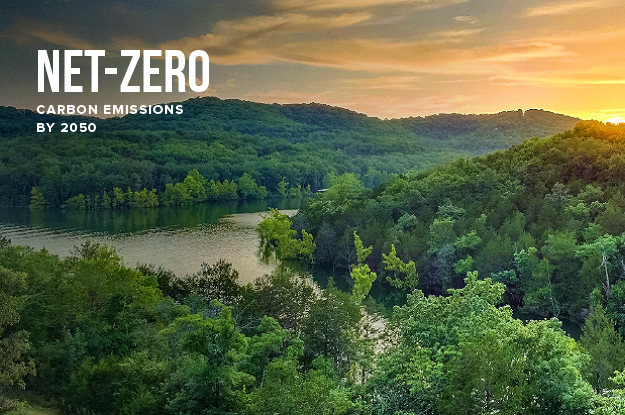 In 2021, we announced our bold plan to achieve net-zero carbon emissions across the entire

U. S. Steel

organization by 2050.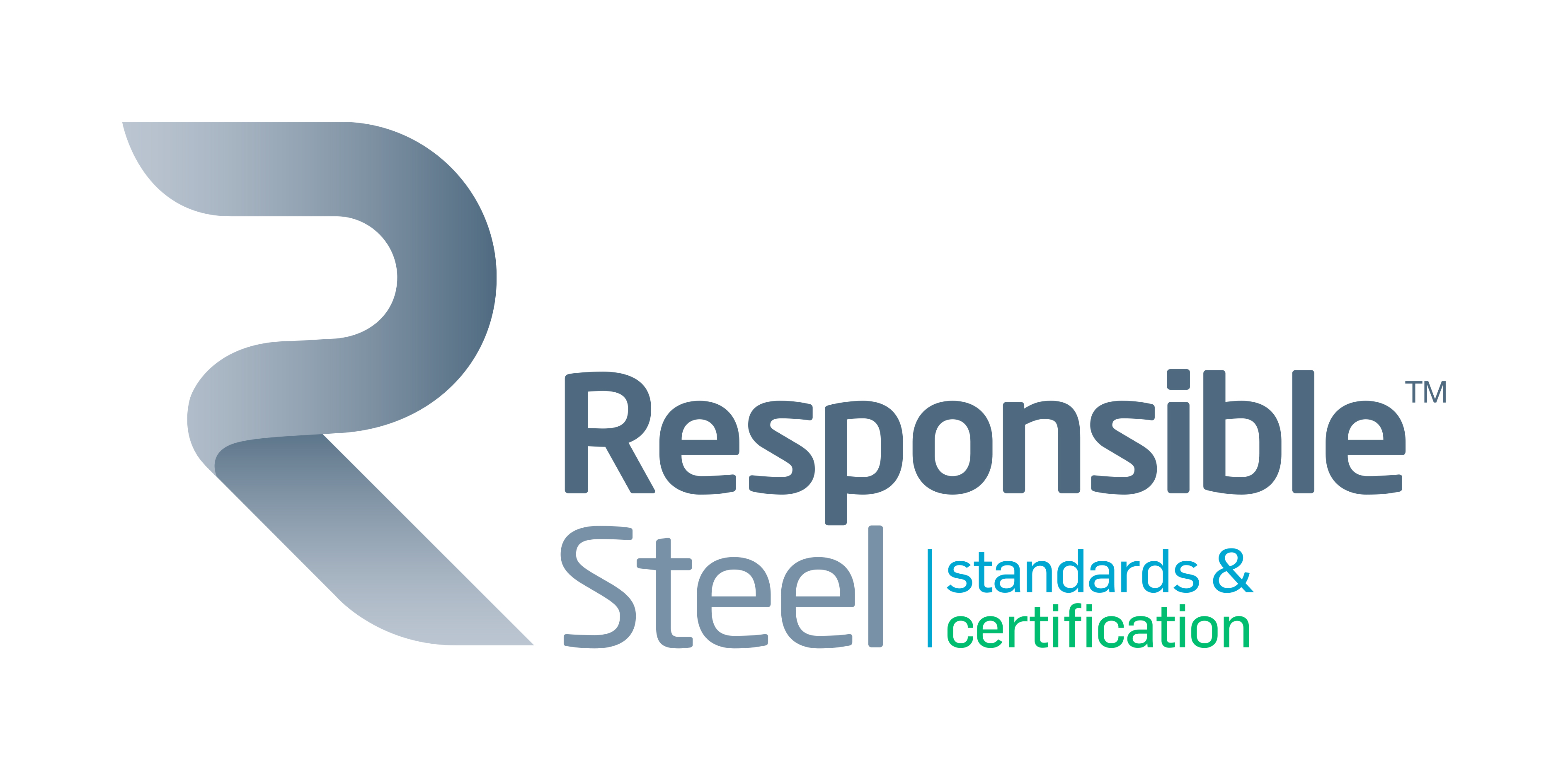 In 2021,

U. S. Steel

became the first North American steelmaker to join ResponsibleSteel™, a global organization dedicated to advancing the steel industry's contribution to a sustainable future through independent certification standards and other initiatives.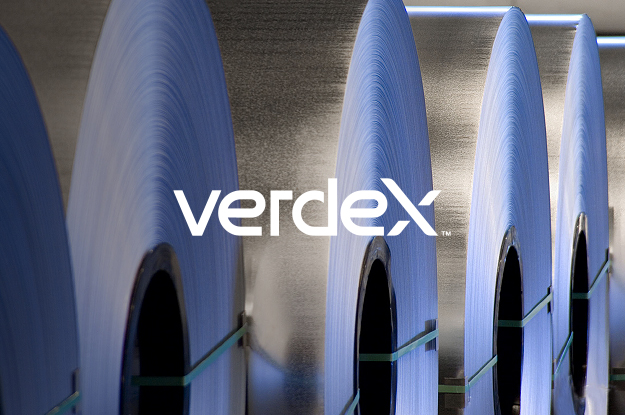 U. S. Steel

launched its new verdeX® sustainable steel line in 2021, combining the environmental advantages of mini mill steel—up to 90% recycled content, up to 75% lower production footprint compared with integrated steelmaking—with our industry-leading finishing processes to create a breakthrough line of sustainable steel. VerdeX® steel is available today in a growing number of grades, from basic to ultra-high strength.
AT U. S. STEEL, THE FUTURE IS BRIGHTER THAN EVER AND COMING TO LIFE RIGHT NOW.