Community Engagement
CONNECTING COMPANY
AND COMMUNITY.
At U. S. Steel, we believe our business thrives when we are actively engaged and involved in the communities where we make steel.
Just as U. S. Steel is strategically focused on the company's future, we are committed to strengthening the future and livability of communities that we call home, some for more than a century.
We take pride in the communities that are home to our operations. From employees' volunteer work to corporate contributions; from partnering in support of science, technology, engineering and math (STEM) education to awarding scholarships, we are engaging and supporting our neighbors and employees to strengthen our communities.
U. S. Steel's contributions to community organizations and activities support a range of causes. The primary goals of our contributions: to positively impact the communities that U. S. Steel calls home, to enhance and improve quality of life in those communities, and to support projects and opportunities that advance safety, education and environmental stewardship.
In addition to the STEM area, the "Sons and Daughters Scholarships" program is a powerful example of a meaningful initiative through which U. S. Steel promotes and advances education. This competitive scholarship program supports the higher education and career goals of U. S. Steel employees' children who attend a two- or four-year college or university or vocational-technical school in the United States. Scholarships are awarded by a third-party administrator based on applications submitted.
Recent U. S. Steel community initiatives
---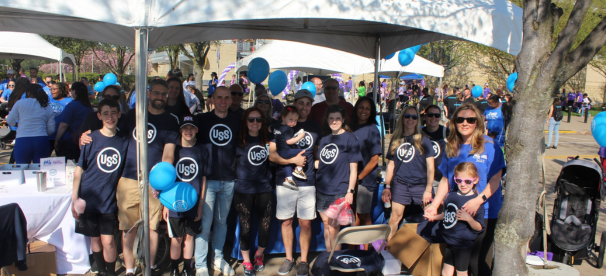 ---
U. S. Steel

Employees Step Up Big for Annual March of Dimes March for Babies

When the March of Dimes held its annual March for Babies — the organization's largest fundraiser and the nation's oldest charitable walk — this past April, our SteelPARENTS and SteelABILITY Employee Resource Groups (ERGs) really stepped up. By staging gate collections and fundraisers across our company, greeting participants and joining in the Pittsburgh walk, and raising awareness at plants across our country, these impactful volunteers drove donations that as of today have surpassed more than $45,000.

Of course, our company showed up as a caring partner as well with platinum sponsorship of the Pittsburgh event.

For 85 years, the March of Dimes has been leading the charge to combat preventable preterm birth, end maternal death, and close the health equity gap for every family. You can join the fight by joining Team U. S. Steel! Virtual donations are still being accepted here (www.marchforbabies.org/USSteel) and can be designated for a specific U. S. Steel facility, if you so choose.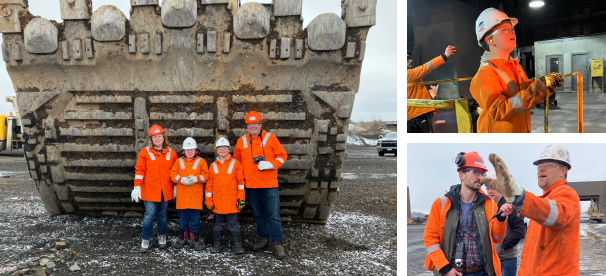 ---
One Child's Question Leads to an Unforgettable Day at
U. S. Steel's

Keetac

First, nine-year-old Minnesotan Julien Munson asked his father, "What's the biggest machine in Minnesota?" Next, his father Nathan Munson reached out to Minneapolis Star-Tribune journalist Eric Roper with the same question. Roper's search for the answer led him to U. S. Steel's Keetac and resulted in plant leadership inviting him and the entire Munson family for a visit to discover the answer themselves.

The group's epic field trip to Minnesota's Iron Range, hosted by Keetac's Reliability Engineering Manager Steve Andrie, Director of Operational Readiness Mike Bakk, and Plant Manager Tim Kalisch, began with sweeping views of the expansive mine pit, which made the mega dump trucks in the distance seem unimpressive at first glance. But as Julien and his sister got close enough to climb into the cab and see first-hand the enormity of the excavators that feed them, it became clear why Keetac held the answer to Julien's question. The visitors also toured the factory, learning for themselves how fundamental iron ore is to our lives and how vital our Minnesota Ore Operations facilities – Keetac and Minntac – are to the production of steel in America.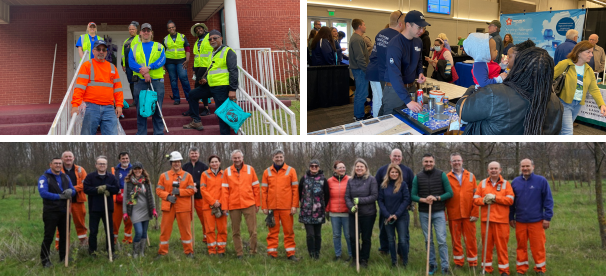 ---
U. S. Steel

Employees Celebrate Earth Day at Community & Plant Events

From planting trees to picking up trash, we marked Earth Day 2023 by participating in a variety of activities, starting with the planting of 50 saplings at U. S. Steel Košice in Slovakia that one day will absorb 1,000+ kg of carbon dioxide (CO2) emissions annually! In the U.S., things got going with a big celebration at Big River Steel that included visiting schools to distribute wildflower seeds and continued with a team from Minnesota Ore Operations attending Iron Range Earth Fest, the premiere sustainability event in the state. Volunteers from across our Mon Valley Works plants in Pittsburgh, Pennsylvania, completed local landscaping and community park upgrade projects, and a team from Fairfield Tubular Operations picked up roadside litter in the Birmingham, Alabama, area. Employee volunteers at Granite City Works in Illinois performed beautification projects on site, while Great Lakes Works employees joined community members to clean up areas along the Detroit River.

As a corporation we showed up as well through sponsorship of and participation in the 2023 Northwest Indiana Earth Day Celebration at the Porter County Expo Center, an annual event that gives U. S. Steel's nearby Gary Works and Midwest Plant the opportunity to engage with the larger community and share our love for our neighbors and our environment.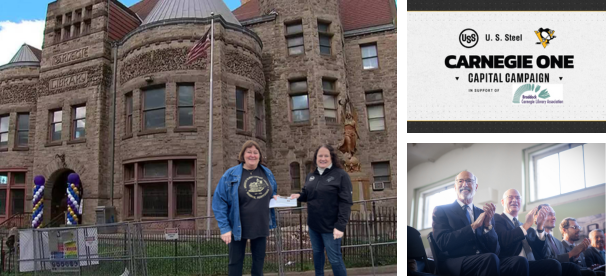 ---
Groundbreaking Event Brings Big News to a Standing-Room-Only Crowd
U. S. Steel President and CEO Dave Burritt and former Pennsylvania Governor Tom Wolf joined community partners from the Braddock Carnegie Library Association (BCLA) and the Pittsburgh Penguins at a groundbreaking celebration for the Carnegie One Capital Campaign to renovate the Braddock Carnegie Library. During the event, Burritt announced that U. S. Steel will commit an additional $500,000 to the original $500,000 promised, bringing our total contribution to $1 million, money that will go a long way towards helping the library reach its $19 million goal.

The Braddock Carnegie Library, located near our Edgar Thomson Plant in Braddock, Pennsylvania, has been a pillar of the community since U. S. Steel founding father Andrew Carnegie first gifted it to the town in 1889. More recently, however, the library has been in need of major repairs and significant upgrades. The capital campaign will accomplish both of those, with funds allocated for extensive renovations and several meaningful additions that include a performance hall, gymnasium, print shop, and ceramics studio, along with retail space and areas designed specifically for kids and teens.

Get involved: Click here to donate to CarnegieOne.
SOCIAL AREAS OF FOCUS
U. S. Steel's current governance areas of focus align with the results of our ESG Materiality Assessment.