Community Engagement
CONNECTING COMPANY
AND COMMUNITY.
At U. S. Steel, we believe our business thrives when we are actively engaged and involved in the communities where we make steel.
Just as U. S. Steel is strategically focused on the company's future, we are committed to strengthening the future and livability of communities that we call home, some for more than a century.
We take pride in the communities that are home to our operations. From employees' volunteer work to corporate contributions; from partnering in support of science, technology, engineering and math (STEM) education to awarding scholarships, we are engaging and supporting our neighbors and employees to strengthen our communities.
U. S. Steel's contributions to community organizations and activities support a range of causes. The primary goals of our contributions: to positively impact the communities that U. S. Steel calls home, to enhance and improve quality of life in those communities, and to support projects and opportunities that advance safety, education and environmental stewardship.
In addition to the STEM area, the "Sons and Daughters Scholarships" program is a powerful example of a meaningful initiative through which U. S. Steel promotes and advances education. This competitive scholarship program supports the higher education and career goals of U. S. Steel employees' children who attend a two- or four-year college or university or vocational-technical school in the United States. Scholarships are awarded by a third-party administrator based on applications submitted.
Recent U. S. Steel community initiatives
---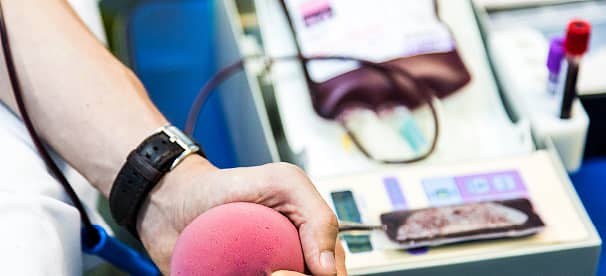 ---
Granite City Works Employees Provide Blood Donations During Nationwide Shortage
Supplies of type O red blood cells, AB plasma, and convalescent plasma are at critical levels at hospitals across the country as essential workers are fighting the COVID-19 pandemic and caring for non-COVID conditions. Employees at Granite City Works recently did their part to ensure the local blood supply is well stocked by once again partnering with the Mississippi Regional Blood Center for an on-site blood drive. Read on for additional details.
Robin Sampson, Employee Relations Representative at Granite City Works, organized the event with support from General Manager Mike Patton and members of the United Steelworkers Local 1899.
By the end of the drive, 25 units were collected, which means at least 100 lives in the region could be saved thanks to our donor employees.
Hard hat tip to all of the Granite City Works employees who donated and to Robin for organizing the drive.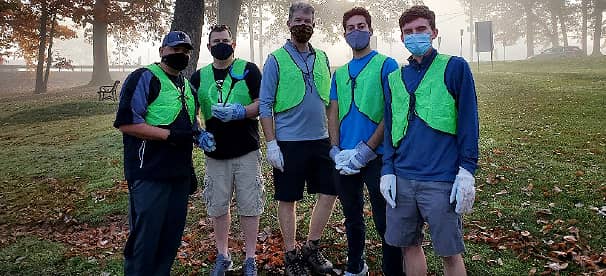 ---
Global Procurement Employees Team Up to Clean Up a Pittsburgh-Area Neighborhood
Members of U. S. Steel's Global Procurement team recently joined forces with the Pittsburgh-area North Hills Community Outreach (NHCO) organization to help clean up a local park and garden. Although only five employees could participate due to COVID-19 restrictions, this small but mighty group completed a great deal of work throughout the day. Read on for additional details and photos.
Andrew Dougher (Category Manager), Nicholas Goussetis (Management Associate – Procurement), David Ploskina (Senior Purchasing Agent), Jay Pollard (Manager – Commodity Procurement), and Mike Werner (Manager – Commodity Procurement) gathered bright and early on Oct. 22 and got to work picking up litter in the popular North Park in the northern suburbs of Pittsburgh.
After a quick lunch break, the group reconvened in the nearby borough of Bellevue, where they cleaned up a garden owned by NHCO. This garden produces fresh organic vegetables that are then distributed to local families who utilize three area food pantries also operated by NHCO. Volunteers helped with harvesting vegetables, mulching, weeding, and preparing the garden for winter.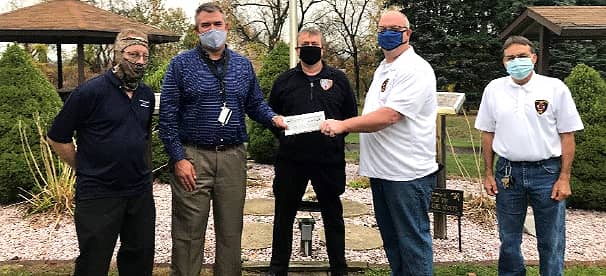 ---
Clairton Plant Leadership Team Offers Support to Two Community Fire Departments
With support from U. S. Steel's Community Engagement Committee (CEC), two members of the Mon Valley Works Clairton Plant leadership team recently presented two local fire departments with monetary donations. Plant Manager Mike Rhoads and Manager of Safety & Security Drew Martin donned their face coverings to present the checks to the teams at both Glassport Hose Co. #1 in nearby Glassport, Pa., and Lincoln Borough Volunteer Fire & Rescue Co. in Elizabeth, Pa. Read on for additional details.
Mike and Drew were invited to participate in the Glassport Borough Council meeting on Oct. 20, where they presented a check for $36,820 to the chief officers of Glassport Hose Co. #1.
Mike and Drew then participated in the Lincoln Borough Council Meeting on Oct. 28, where they presented a check for $24,479 to members of the Lincoln Volunteer Fire and Rescue Company.
In both cases, the funds will be used to support the purchase of new self-contained breathing apparatus (SCBAs) that the men and women of both volunteer fire departments use to protect themselves when they are fighting a fire or in a hazardous atmosphere.
Mike spoke of the importance of supporting these local first responders, and thanked Todd Young (Vice President – Governmental Affairs) and members of the CEC for their support.
"It's important that we support the fire departments who protect our communities," said Mike. "We were happy to help our local departments to help ensure that the men and women we all rely upon in times of need are safe when they respond."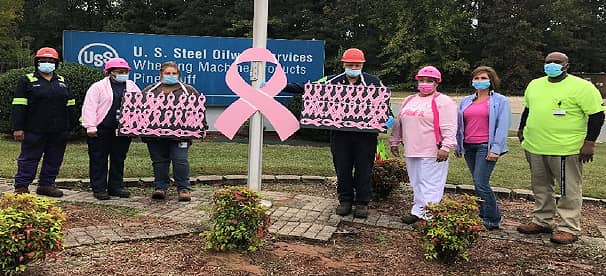 ---
Wheeling Machine Products Employees Show Support for Breast Cancer Awareness Month
October is Breast Cancer Awareness Month in the United States and employees at U. S. Steel's Wheeling Machine Products in Pine Bluff, Arkansas, took visible steps to raise awareness about a disease that claims more than 40,000 lives each year in the U.S. Read on for additional details.
Employees decided to post the familiar pink breast cancer awareness ribbon throughout the site to serve as visible reminders.
A large ribbon was hand cut and painted to display in front of the facility.
In addition, Stacy Smith led an effort to have employees sign pink paper ribbons that were also displayed in prominent areas of the plant. These ribbons were intended raise awareness about and remember people who lost their lives to all types of cancers. This effort was especially important to Stacy because she has family members currently fighting the disease, and she has lost loved ones to it as well. In her words, "Just like ALL lives matter, ALL cancers matter, too."
SOCIAL AREAS OF FOCUS
U. S. Steel's current governance areas of focus align with the results of our ESG Materiality Assessment.