PRODUCTS
ULTRA HIGH-STRENGTH STEEL
U. S. Steel combines game changing innovation and industry leading product breadth to offer Ultra High-Strength Steel (UHSS) solutions for every challenge and opportunity.
Unrivaled steelmaking expertise and capabilities. A steel industry leader's product breadth and focus on innovation. Decades of industry-specific experience and customer relationships. These attributes have long defined
U. S. Steel
in the UHSS space—accelerated investments to build upon these strengths and an intensified focus on supporting customer success is defining the new
U. S. Steel
. We offer a wide range of high-quality, high-performance steels to meet the most exacting needs of every application. With a customer-committed, collaborative approach, we convert leading products into unbeatable solutions. Browse our products. Then contact us. Let's define the next level together.
ULTRA HIGH-STRENGTH STEEL
FEATURES
U. S. Steel's Martensitic ultra-high strength steels meet roll-forming applications needs that require extreme flatness with excellent bendability. These grades are ideal for use in crash intrusion protection parts and manufacturing large components where safety of the automotive body structure is critical.
State-of-the-art shape control process
Our Martensitic grades utilize the continuous annealing line (CAL) process that precisely controls heating and cooling operations, resulting high strength and good formability. Precise control of pressure across and through the coil ensures superior flatness that is well within roll forming industry guidelines for tolerances and results in less waste with greater yield. CAL grades are available bare or with an electrogalvanized (EG) coating.
APPLICATIONS
Front Bumper Beams
Rear Bumper Beams
Door Intrusion Beams
Side Sill Reinforcements
Roof Rail Reinforcements
Roof Bow
Cross Members
Floor Rails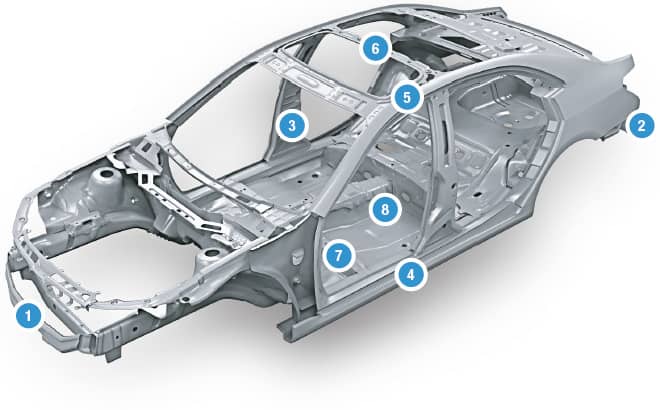 PRODUCT FORMABILITY AND GUARANTEED PROPERTIES
---
PRODUCT
MARTENSITIC
1100 CAL GRADE
MARTENSITIC
1300 CAL GRADE
MARTENSITIC
1500 CAL GRADE
MARTENSITIC
1700 CAL GRADE
Formability Classification*
Local
Local
Local
Local
Tensile Strength (MPa)*
1,100 (min.)
1,300 (min.)
1,500 (min.)
1,700 (min.)
Yield Strength (MPa)*
860 – 1,100
1,030 – 1,300
1,200 – 1,500
1,350 – 1,700
Total Elongation (%)*
≥ 3
≥ 3
≥ 3
≥ 3
Specimen Geometry*
ASTM-L
ASTM-L
ASTM-L
ASTM-L
* Property ranges provided are guaranteed properties at the center of the strip at room temperature.
ULTRA HIGH-STRENGTH STEEL APPLICATIONS
---
SUPPORTING AUTOMOTIVE
CUSTOMER SUCCESS.
At U. S. Steel, careful listening, creative thinking and cross functional collaboration turn better steel into better solutions for our automaker customers.
LEARN MORE
Our Products
Whatever your opportunity or challenge, we have a solution. Browse our product categories below to learn more.