AUTOMOTIVE
LEADER. INNOVATOR.
COLLABORATOR.
PARTNER.
United States Steel has been there every step of the way as the auto industry has evolved over the years. Today, we are a committed, trusted collaborator and supplier to automakers, helping them define new horizons in safety, strength and fuel economy with breakthrough innovations like XG3™ Steel, the next generation of Advanced High-Strength Steel.
OUR PRODUCTS
LEADING THE WAY TO THE FUTURE.
U. S. Steel combines steel technology leadership with problem-solving excellence to help customers and suppliers design the future of automotive transportation.
---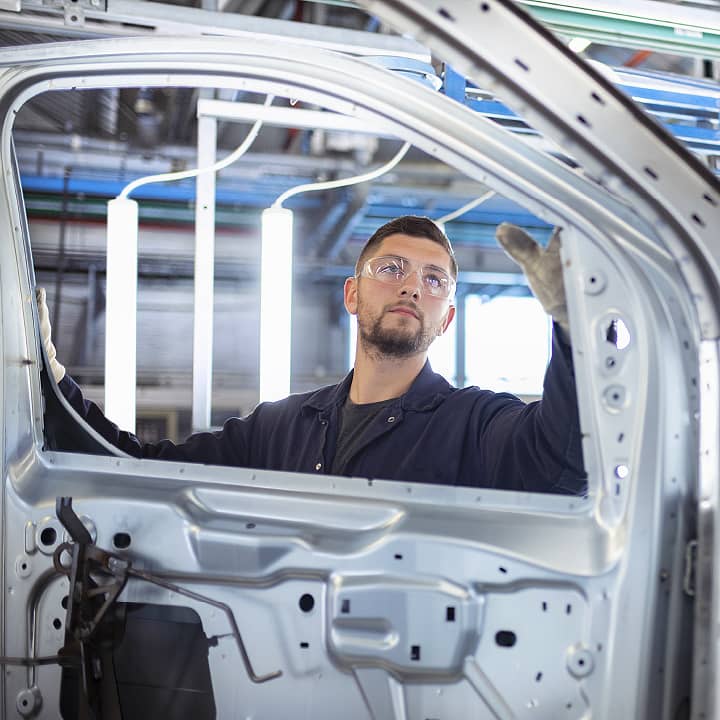 BY THE NUMBERS
20%
Potential vehicle weight savings through U. S. Steel's new XG3™ Advanced High-Strength Steel (AHSS) applications
83%
The percentage of vehicles produced in North America that use U. S. Steel material in their construction
2019
The Jeep® Gladiator becomes the first vehicle to use XG3™ AHSS for stronger, higher-performance steel at lighter weight
2018
U. S. Steel wins the Altair Enlighten® Award for its MART-TEN™ martensitic steel, used in the all-new 2019 Chevy Silverado
GREEN STEEL VERSATILITY
MINI MILL EXCELLENCE AT WORK.
Our Big River mill was built from the ground up to innovate. With the world's first Flex Mill
®
,
U. S. Steel
is better equipped than ever to bring the versatility, agility and sustainability of mini mill technology to the development of advanced sustainable steels such as verdeX
®
steel for automotive customers. Next: investment in a new line to expand production of NGO steels that will help our customers meet growing demand for next-generation EVs, planned for completion by second-half 2023.
---
SUSTAINABLE STEEL
SUCCESS STORIES
CROSS-FUNCTIONAL APPROACH,
PROBLEM SOLVED.
A tier 1 automotive customer had a technical problem with a fender bracket that was slowing production. Our application engineer quickly assembled a multi-disciplined team of specialists at U. S. Steel to develop a solution. A more formable steel material solved the problem and improved more than volume—it improved the relationship, gaining kudos from the OEM.
SOLUTION PROVIDERS
MORE THAN BETTER STEEL.
BETTER SOLUTIONS.
The continued drive for lightweighting. Or a specific, persistent failure mode. When an automotive customer has a challenge or problem, our application engineers want to get the first call. At U. S. Steel, careful listening, creative thinking and cross-functional collaboration turn better steel into better solutions.
U. S. STEEL AUTOMOTIVE CENTER
DEDICATED TO INNOVATION
AND OEM PARTNERSHIP.
We created the U. S. Steel Automotive Center to offer dedicated material and application expertise to support our automotive customers. With state-of-the-art equipment and decades of experience, we're committed to helping automotive engineers evaluate potential applications or address today's challenges and opportunities in cost savings, weight reduction, formability, crash energy management, material availability and more.
LEARN MORE